Are you looking to make ends meet while traveling the world? Or maybe you could just use a little extra scratch each month? This guide has something for everyone (including you).
If you've ever dreamed of financial freedom, get ready to bookmark this page.
With 125 ways to make money while traveling, there's sure to be something up your alley.
This list covers everything from monetizing website traffic to freelancing to side hustles–and everything in between.
Let's dive right in.
Websites & Social Media
Few money-making opportunities have more upside than building a following and monetizing it.
1. Affiliate marketing
Let's start with the one I use to generate most of my income while traveling: affiliate marketing.
If you have a blog or social media profile with a lot of traffic, you can turn that traffic into money by recommending products to your audience in exchange for a referral fee. That fee varies depending on both the products and affiliate programs you promote. Amazon affiliates average about 5% while some courses and information products offer a whopping 40%.
If you don't have a blog or an audience then affiliate marketing is more of a long-term play, but it can pay off big time. I launched my first affiliate site in March 2017 and it was earning $1,000 per month by September 2017 and $5,000 per month by December 2017.
And there really isn't a ceiling on how much you can make. Some of my site's competitors were making $500,000 per year. They didn't do that in 10 months, but it goes to show the potential affiliate marketing has. That's travel-for-life type money.
The Hard Truth: Affiliate marketing takes a lot of time and effort to turn into the type of result above. I worked 30 hours per week for about 6 of those 10 months–on top of my full-time job. And as you can see, I didn't start making money until months 5-6, which means my first 4 months were a ton of work (about 500 hours) and a lot of hoping I was doing the right thing.
If you start traveling and launch your site the day you leave, you won't have much time to either work other jobs to keep you afloat or experience the amazing places you'll visit.
So if you're thinking of traveling in the future, now is the time to get your affiliate site going. There's an old Chinese proverb I like that rings true in the affiliate marketing space: "The best time to plant a tree was 20 years ago. The second best time is now."
2. Monetize website traffic with display ads
You can also monetize your website's traffic by selling ad space. There are two ways you can do this:
Install code on your site from an ad platform like Google AdSense
Sell ads directly to companies and manually place them on your site
Most people go with Option 1 because it's easier and works well with smaller sites that don't have the traffic to entice big-money private ad deals.
Revenues vary by the ad network you use, the topic of your site, and how dense you allow the ads to be.
Google AdSense Example: AdSense publishers (like you) earn 68% of the cost per click that advertisers pay. Cost per click varies by industry, but $1.50 is a good middle ground. The typical display ad gets about a 0.33% clickthrough rate, so for every 1,000 pageviews, you'll generate about 3.3 clicks and $4.95 in ad revenue for Google, of which you'll get $3.37. This is called your RPM.
AdSense isn't the only ad network in town. When you reach certain traffic thresholds, you open yourself up to other (better) options. I use Mediavine, which requires a minimum of 25,000 visitors per month, but the network boasts a relatively massive average RPM of $14. That's often more than 5 times what you'll earn with Google.
Here are some display ad networks to check out:
3. Create a subscription-based site
If the idea of creating an affiliate site about toasters isn't your cup of tea, you could always create a subscription-based site that puts your best content behind a paywall.
This can be more challenging than either money-making method above because there's an expectation that web content should be free, but if you have awesome content and a loyal following, a subscription-based model is a viable option.
The great thing about subscription-based models is they provide recurring income, and that's why monthly product subscriptions are replacing one-time purchase fees around the web. This article by Paperform does a great job elaborating on the pros and cons of the pay-for-play model.
4. Develop a product
Affiliate marketing is great because you don't need to have your own product to sell, either physical or digital. The drawback is you usually get a much smaller portion of the revenue. If you want a bigger piece of the pie, develop your own product and sell it.
This doesn't mean you have to go invent some new technology or develop the next awesome app. My first ever website was a fantasy baseball blog where I sold a downloadable Microsoft Excel file for $19.95. I even had affiliates of my own!
In my opinion, information products are where it's at.
The barrier to entry is low.
There are few recurring cost to manufacture them.
Customers can access them immediately.
You can offer high referral rates to would-be affiliates.
Whether your product is a downloadable Excel file, a meal planning worksheet, a full-scale eBook, an educational course, a website-based tool, or something else, there's a lot of money to be made developing your own products and promoting them.
5. Build a YouTube channel
Did you know that YouTube is the world's second-largest search engine? There are a lot of people browsing YouTube, and there's plenty to go around.
YouTube revenue usually begins with advertising dollars through the YouTube Partner Program. The rub is you can't apply to join the program until you reach 1,000 subscribers and 4,000 watch hours over the past year.
If you're accepted into the program, you get paid when viewers either click an ad or watch it in full. If they do, you get a 45% cut. You also get a share of revenues generated by YouTube Premium subscribers, who aren't served ads.
Research by My Work From Home Money concluded that the average YouTuber makes $2.85 per 1,000 views. That's not exactly lifechanging money.
YouTube Math To Make $100 / Month: Let's say your goal is to make $100 per month through YouTube's Partner Program. At $2.85 per 1,000 views, you'll need 35,088 total views. With a 14% ratio of views to channel subscribers per video, you'll need 62,657 subscribers.
That math paints an overly pessimistic view as it only looks at revenue for your four new videos each month–you'll still earn money on videos you published in previous months–but it does level-set expectations.
Ultimately, a successful channel will monetize their subscribers in other ways:
Promote their own branded products and gear
Encourage fan funding and donations
Earn affiliate commissions through product links in video descriptions
Get paid directly by companies as an influencer
Like affiliate marketing, you should plan ahead and start your YouTube channel well in advance of when you need the revenue.
6. Twitch streaming
Twitch is a live-streaming platform geared towards, but not exclusively for, gamers. With 15 million daily active users, Twitch is massive. They make money through ad revenue but also by selling monthly subscriptions, which they share with their Affiliates and Partners.
CNBC estimated that 40-hour-per-week Twitch streamers make $250 per month in ad revenue for every 100 subscribers in addition to earning 50% of the revenue generated by each subscriber, and subscriptions cost $4.99, $9.99, and $24.99.
According to Twitch Tracker's stats on the top 10 streamers, the breakdown at each subscription level is as follows:
$4.99: 96%
$9.99: 2%
$24.99: 2%
Twitch Revenue Estimate: That means the average Twitch subscriber is worth $5.50, of which the streamer sees $2.25. Combined with the ad sharing estimates above, the average full-time streamer can expect to make $475 for every 100 subscribers.
Becoming a Twitch Affiliate is relatively easy, and you'll be invited automatically when you meet the following criteria:
8+ hours broadcasted
7+ unique broadcast days
3+ concurrent visitors on average
50+ followers
Becoming a Twitch Partner is invite-only with just 1% of streamers reaching this level.
If you're a good gamer on a popular game, Twitch is a fun way to get your fix and make some scratch. Just make sure you aren't playing 6 hours per day at the expense of everything else in your life without a step-by-step plan of how you'll go from Mom's basement to successful streamer.
7. Manage social media accounts
I'm bad at social media. I barely use Facebook and the only Instagram account I have is our @nomadly_weds page that Dawn does most of the work on. If you're good at social media, people like me need people like you!
Advertise your services on Reddit (the r/forhire sub is your best bet), Upwork, and other freelance marketplaces. The average employed Social Media Manager makes around $48,000 per year or about $27 per hour after adjusting for time off. That's similar to the rates you'll see on Upwork.
You probably won't be able to charge those rates from the start if you don't have proven experience, but you definitely can start lower, build your portfolio, and work your way up. The top freelancer listed in the image above–Jenna J.–started at $12-$15 per hour, then took jobs at $20 per hour, and her last job was at $25 per hour.
8. Become a Facebook Ads Specialist
Facebook is the largest social network and can have huge value for businesses. As Facebook continues to decrease organic reach in favor of paid ads, it's becoming even more critical for businesses to use Facebook ads to find customers.
The problem is that running a Facebook ad campaign is intimidating with a somewhat steep learning curve. If you can master segmentation and learn to develop compelling ad creatives, you can make a killing freelancing with clients. Some of the top Facebook Ads Specialists on Upwork make $150 per hour!
9. Become an Instagram Influencer
According to Vox, someone with 10,000-50,000 followers can make a few thousand dollars per sponsored post. Even our tiny Instagram page (@nomadly_weds) with 323 followers could pull in an estimated $27-$45 per post.
That relatively high earnings estimate is thanks to our ridiculous 18.52% engagement rate. According to Iconosquare, the average Instagram engagement rate is just 4.7% so we're blowing that out of the water. Our follower count may be low but it's mighty!
10. Get paid to tweet
If Twitter is more your speed, you can also get paid to tweet. If your account has at least 50 followers, has sent at least 100 tweets, and is at least 60 days old, you can sign up for Sponsored Tweets and begin making money today.
Just make sure to temper expectations. This article from Money Crashers reports that fitness model Chady Dunmore makes $75-$150 per tweet with 57,425 followers. (Note: I'm not sure when that stat is from but she has 36,400 followers now). That's $0.0013-$0.0026 per follower per tweet. To make $1 at the midpoint of that range, you'd need 513 followers.
11. Podcasting
According to Music Oomph, 22% of Americans listen to podcasts weekly. AdvertiseCast reports that a 30-second ad spot costs advertisers $21 per 1,000 listeners. If you do the math, there's a lot of revenue potential if you can operate a successful podcast. If you have a podcast with 10,000 listeners that publishes weekly with two ad spots, you're set to make about $1,680 per month.
12. Link building and outreach
There's one universal truth about growing a successful blog: link building sucks.
The Pareto Principle, better known as the 80/20 Rule, states that 80% of your time should be spent promoting your content to just 20% creating it. Most bloggers are about 95/5 in the other direction with link building and outreach almost completely ignored.
That's where you come in.
Research by Ahrefs found that the average cost of purchasing a backlink is $361.44. Generally, that's done in the form of guest posting where Website A pays a fee to publish an article on Website B that includes a link back to Website A.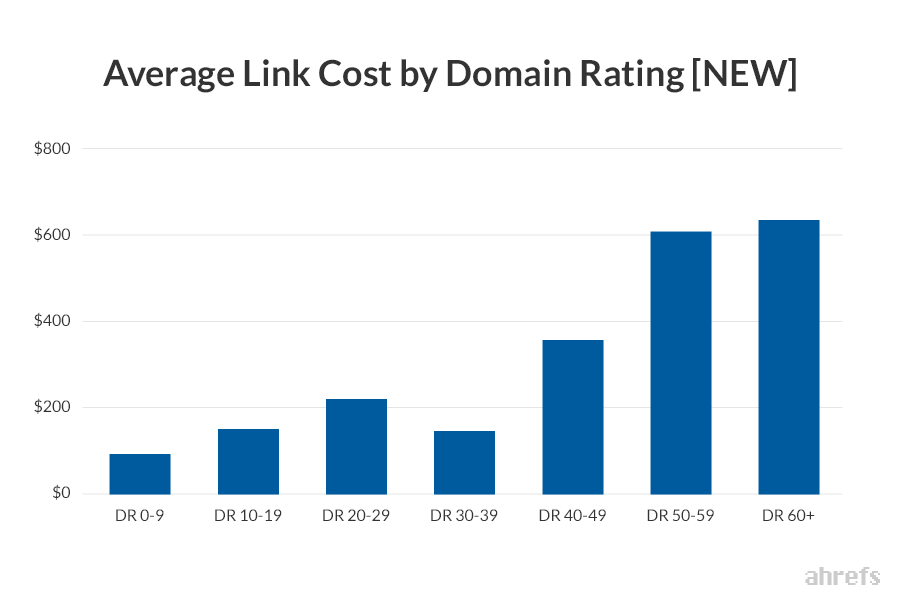 You can make money by facilitating this process. Your job is to do the tedious legwork on behalf of Website A, finding valuable, relevant domains on which to publish guests posts for a fee. You serve as the middleman and charge a markup, often writing the guest post yourself or outsourcing it to someone else at less than your markup.
Link building agencies exist because there's money to be made here. This is another place where the r/forhire subreddit and Upwork are a good places to advertise your services. Link-able is a marketplace where high-quality writers can apply for backlink jobs to go out and complete.
Full Disclosure: Link buying/selling is against Google's guidelines, and sites that are found to have participated in link building schemes can face severe penalties. However, it's something that many sites still do because it's hard for Google to tell what is a paid-for link and a naturally-earned link.
13. Run PPC ads to earn referral fees
This one is risky as Pay-Per-Click (PPC) advertising is competitive and it's very easy to lose a lot of money very quickly. However, if you develop an ad creative that costs less per click than you make per lead, you're in business.
I don't recommend running PPC ads for Amazon product referrals because the commission are too low, but you can probably find good information or digital products to promote that pay you a portion of recurring subscription fees.
ClickFunnels is an example of just such a service where you make a recurring 20-40% of a $97-$997 monthly subscription fee. If you qualify for their 40% commission tier by having 40 referred subscribers, you'd make $4,752 per month if they were all at the middle $297 tier.
Full Disclosure: Your results probably won't be this good, and driving them solely through PPC is harder than having a blog with an audience and an email list. But this is a valid way to make money, even if it isn't $5,000 per month.
Freelance Writing
Writing is something everyone can do.
Note: There's a separate Online Freelancing section below, but I want to give Freelance Writing its own section because the barrier to entry is so low and there are so many different ways to make money by creating content.
14. Claim open freelance writing assignments
The easiest way to make money by writing is to sign up for marketplaces like WriterAccess, iWriter, or TextBroker. Before I launched my first affiliate site, I did some writing on WriterAccess so I have the most experience with them. Honestly, I love them.
As a prospective writer, you sign up for an account, take a quiz to determine your skill level, and then claim assignments at or below your skill level (from 2-6 stars).
Pay tops out at $0.08 per word in this free-for-all general marketplace (minus WriterAccess's 30% cut) but you can claim available assignments without having to find clients. After you build up your portfolio you can move to a pro marketplace with better pay.
I initially qualified as a 4-star writer making $0.054 per word before WriterAccess took their 30% cut. Below is a snapshot of some of the assignments I completed.
15. Submit pitches and apply for posted jobs
The next lowest barrier to entry is submitting pitches to websites that accept guest submissions. However, there's no guarantee that they'll accept your pitch or publish your article.
First, there are marketplaces like Matador Network. You'll be competing against other freelancers for gigs, so it's like applying for a job.
Second are the sites with open acceptance that accept article pitches. If they like it, you write it.
16. Publish on revenue sharing sites
Other sites let you publish content without upfront payment. Instead, you get a share of revenue based on the number of views your article gets.
The Medium Partner Program might be the most famous. Medium reported that in October 2019, 9% of their writers made at least $100 that month. One person made $24,438. It seems like if you post daily, you'll make around $1,000 per month. That's a lot of time and effort for a modest reward.
Here are other revenue sharing content sites:
17. Find your own clients who need content written
Once you have a portfolio of high-quality work, you can go out and find clients yourself. I landed a gig paying $0.10 per word on the r/HireaWriter subreddit. I can write a well-researched 1,000-word article in 2-3 hours, so that job worked out to about $35-$50 per hour. We communicated via email and I submitted invoices through PayPal.
Upwork, Guru, and Flexjobs are other places to find clients. ProBlogger's job board is another great option.
18. Write an eBook and sell it on Amazon
If you're looking for more of a "go big or go home" approach, try self-publishing an eBook on Amazon's Kindle Direct Publishing (KDP). You earn up to 70% royalties and your eBook will be available in the marketplace in less than 48 hours.
This guy published 12 eBooks and made a recurring $2,000 per month in less than a year. This guy did something similar with fewer eBooks.
And we aren't talking about Harry Potter-length novels here. According to that last link, the average KDP eBook is around 6,000 words long. Our guide to the 155 Things You Need To Know Before RVing Full-Time is 9,489 words long.
(Maybe I should publish that…)
19. Subcontract your freelance writing services
If you find enough clients you can start your own agency by subcontracting your work to other freelancers and pocketing the difference. Just remember to take care of your clients and never sacrifice quality.
Online Jobs & Freelancing
Writing aside, you can make good money by outsourcing your skills with remote work.
20. Work remotely at your current job
When Dawn and I moved to Hawaii in 2014, I was a little nervous about both of us moving 5,000 miles away to an island without either of us having a job. When I broke the news to my company, they asked if I'd be interested in staying on and working remotely. You bet I was.
21. Get hired to work remotely
There are literally hundreds of companies that hire remote employees. I won't list them all here because there are countless guides on the Internet that do that already. Here are some links to good ones:
Indeed and FlexJobs are good places to browse listings.
22. Be an expert on Clarity.fm
Clarity.fm is a site that connects startup companies with experts. If you have an area of expertise, create an account on Clarity.fm and promote it. Because Clarity is centered around startups, the categories they accept are business-related, such as product development, funding, marketing, leadership, management, and industry-specific stuff like SaaS.
The average Clarity expert makes $100 per hour, of which Clarity takes a 15% cut.
23. Launch a consulting firm
I love blogging and affiliate marketing because of the freedom it provides and the massive financial upside for a successful domain. However, there's no doubt I'm at Google's mercy should one of their myriad updates negatively impact my sites.
That's why I also run a consulting agency: Curley Creative. It adds a little more stability and predictability to my bottom line as I have contracts with clients for pre-negotiated rates.
No matter what your background is, there's probably a skill you can provide that people want. The trick is to market yourself properly and get in front of the right eyes. I'm active on Reddit and have a modest reputation there in the affiliate marketing world, so I used some of my contacts to help jumpstart my consulting business.
24. Become an SEO expert
A survey conducted by Ahrefs found that the most common monthly rate charged by Search Engine Optimization (SEO) experts is between $100-$150. Interested? There are 3 great things about going into SEO:
You don't need a degree or formal education to do it.
The ROI of a successful SEO campaign can be massive.
Business owners are too busy running their business to know how SEO works.
SEO best practices change constantly–such is the way of the Internet–but this is a good resource that will get you started on learning SEO. If you're new to SEO, it'll take a lot more reading, research, and practice to get good enough to sell your services, but we all have to start somewhere.
25. Graphic design
Clients need design work done all the time for things like logos, social media cover photos, and custom graphics for blog posts. They post jobs on sites like Upwork, Freelancer, AwesomeWeb, and Fiverr. 99Designs has a competition-style format that doesn't guarantee you'll get paid, but it pays more when your design is selected.
If you're a high-end design talent, Toptal has a rigorous screening process that connects top freelancers with high-paying gigs.
You can also look for part-time and full-time positions on graphic design job boards like Dribbble.
26. Website design & development
Even though my consulting company advertises Content Marketing and SEO services, I still get a ton of people who want to hire me to build websites–and I'm not even that great at it.
Getting a good-looking website up and running isn't too hard with content management systems like WordPress, but companies constantly need to set up eCommerce solutions such as WooCommerce and Shopify.
You can find website design and development jobs on the same platforms as above.
27. Video editing
Continuing with the same online job boards and freelance communities, you could become a video editor. Upwork listings put this job at about $35 per hour and higher for those with serious skill. However, you'll need some startup capital to get the right software.
Fstoppers has a great high-level guide for those looking to get into online video editing. GoDaddy's guide is worth a read, too.
28. Programming
With a forecasted 65% growth rate from 2018-2020, mobile development is the future. Java, Python, PHP, C++, js, and others are the best languages to learn.
WordPress development is another huge growth area with a whopping 34% of all websites operating on the platform. The WordPress job board is a great place to look for these opportunities.
29. Voice acting
As the world becomes more digital, the demand for voice actors continues to rise. If you have a talent for oration, you could be the voice of radio and TV commercials, YouTube videos, eBooks, cartoons, and more. Pay differs for each gig, but Gravy For The Brain says the median voice actor makes $31,400. That's $17.85 per hour adjusting for time off.
Actually, this whole guide from Gravy For The Brain is awesome. ACX Connect is a great place to look for eBook narration jobs. Here's a list of voiceover sites to find work.
30. Become a medical transcriptionist
A medical transcriptionist is someone who types up notes from a doctor's audio recordings. Anyone with a high school diploma or GED can become a medical transcriptionist, but you'll need training to learn the proper medical terminology. The median salary is just over $15 per hour but some advanced transcriptionists make $30.
31. Become a medical coder
Medical coders read notes from patients' hospital stays and doctor visits and apply the proper ICD-10 and CPT codes so that the medical practice can get paid for providing services. You'll need some kind of certificate or associate degree, plus about a year of training, but the median salary is higher than that of a medical transcriptionist at $23 per hour.
32. Virtual Assistant
I've hired several virtual assistants (VA) to handle some of the more tedious aspects of my affiliate marketing businesses:
Basic data entry
Online research, such as finding email addresses
Cold emailing other sites about guest posting opportunities
Adding photos to articles other freelancers have written
Stuff like that. Online sites like Upwork and Freelancer are the best places to find VA jobs. Pay mostly tops out at $20 per hour, but it's something with very little barrier to entry.
33. Bookkeeper
Bookkeeping is an essential part of running a successful business, but it's something small business owners (like myself) hate doing because our time is better spent working on our businesses!
That's where you come in. As a bookkeeper, you'll enter receipts, send invoices, count inventory, and generally make sure the business is minding its Ps and Qs. If you know what you're doing, you can make $33 per hour or more. While you generally need just a high school diploma or GED, a beginner bookkeeper may want to get a certification to show they know their stuff.
34. Audio transcription
SpeakWrite is an audio transcription service that pays its typists half-a-cent per word to transcribe uploaded audio recordings. The pay pales in comparison to freelance writing gigs, which are easily 6-20 times more per word, but there's no research required here–just typing.
The average SpeakWrite typist makes $450 per month, which is a whopping 90,000 words per month. At 60 words per minute that's just 25 hours. Let's add a fudge factor for downtime–in my operational analytics days we assumed people were only 85% productive–and call it an even 30 hours. That $450 over 30 hours works out to $15 per hour. Not too bad for a part-time job.
That is, if you don't develop carpal tunnel.
35. Teach English
Online education is booming with a 10.3% compound annual growth rate through 2023. Teaching English as a second language (ESL) is a huge part of that.
VIPKID has over 70,000 teachers helping 600,000 students learn English, and they pay up to $22 per hour.
Education is done one-on-one with students in China using VIPKID's curriculum and platform. All you need to get started is a bachelor's degree in any field, a working laptop with video capability, and any form of teaching experience, including informal roles like tutoring or coaching.
36. Teach an instrument
English isn't the only subject you can teach online. You can also teach students how to play an instrument. Take Lessons hires teachers and pairs them with students looking to learn.
37. Professional proofreader
If you've got a keen eye for detail, maybe you have what it takes to be a professional proofreader. You can find jobs on Upwork and the ProBlogger job board with top proofreaders making $35 per hour or more. This guide has everything you need to know to get started.
Traditional Jobs
Not all work opportunities have to be online. Here are some in-person, on-the-ground money-making opportunities to explore.
38. Get a normal job
If you'll be spending an extended amount of time in one area, look into getting a regular ol' employed job. Temp jobs may be a great fit if you're looking for something short-term in a region you aren't familiar with.
39. Get a work visa
If you're traveling internationally, you may need to get a work visa. Requirements differ by country–the US requires applicants have a job offer while Australia doesn't–but a work visa may be required to find legal work.
40. Serving, bartending & catering
Dawn and I spent a combined 19 years working in bars and restaurants and we loved the scheduling flexibility and fast-cash nature of the business. Plus, restaurants almost always are hiring as turnover is huge in the industry. Beginners can easily make $10 per hour working in small establishments, but experienced servers and bartenders can make $50 per hour or more.
41. Travel nursing, social work, etc.
Dawn is a Licensed Independent Clinical Social Worker, which gives her the ability to find temporary, contracted work in other US states. These jobs pay handsomely and let us plant some temporary roots in new regions. The same opportunities are available for nurses.
You'll need specific degrees and licenses to take advantage of this opportunity, but it's an amazing way to make money while traveling for those who are eligible.
42. Become a Campground Host, Trail Ranger, or other temporary government employee
In mid-November 2019 we spent a week boondocking in Coconino National Forest when we met a couple working as Interpreters at the V Bar V Heritage Site who found the gig through volunteer.gov.
The site is an amazing resource for finding short-term opportunities working with federal, state, and local government agencies such as the Bureau of Land Management and the National Park Service. Despite the name, you can find compensated positions.
We're looking to spend the winter south of the frost line, so I pulled up some available jobs in Florida.
Historic Weapons Demonstrator?! That sounds awesome. Here are some other jobs you can find:
Campground Host
Trail Ranger
Trail Interpreter
Visitor Center Volunteer
Campground Maintenance Worker
Grant Writer
Campground Host especially appeals to me, as we get to park our RV for free at the campsite where we're volunteering. State and federal campsites with full hookups generally are at least $20 per night, so that's $600 per month in compensation for a few hours of work per day.
43. Work in a hostel
Staying in a hostel is a great way to save money and meet fun people. They also offer employment opportunities such as reception, cleaning, food service, or event organization.
What's great about this money-making opportunity is it requires very little planning ahead of time. Just pick a place to go, and then go! When you get there, visit the nearby hostels and talk to the staff. Put your personality on display and see where they need help.
Like the volunteer opportunities above, compensation usually comes in the form of free accommodations, but you know what they say: A penny saved is a penny earned.
The Blonde Abroad has a great guide about working in hostels.
44. Become an au pair
If you're looking to travel internationally, look into becoming an au pair. In exchange for providing in-home help with household duties and child care, you get a place to stay, regular meals, and a small stipend.
You can find jobs through an agency, but they charge a hefty fee. Instead, try finding host families through Au Pair World or Great Au Pair.
Ashley Abroad has a great guide to becoming an au pair based on her real experience.
45. Professional scuba diver
If you have a scuba certification and experience, look for commercial scuba jobs doing the less-than-glamorous work of item retrieval, maintenance, and repairs. Learn underwater welding and earn an average of $26 per hour.
46. Lifeguard
Chasing warm weather? Lifeguarding is a great opportunity for those with the proper certification. Pay is about $12 per hour.
47. Tour guide
Know a lot about the area you're visiting? Share you expertise by becoming a tour guide. While you could look for employment at whatever tour companies operate in the city you're visiting, you can also connect with tourists directly and cut out the middleman by using one of these sites:
The best part is you get to create your own customized tour and charge whatever rate you'd like. Kellie N. is an expert on Portland, Oregon and offers three tours of the city ranging from $250-$400 per tour for up to three hours of her time. Not a bad rate!
48. Seasonal farm worker
WWOOFing is an oft-written about way to make money while traveling. In exchange for housing, some meals, and possibly a small stipend, you can get your hands dirty by working on a farm. You can find opportunities on the following sites:
49. Sell timeshares
Full disclosure: I am not a fan of timeshares and don't think people should buy them. That said, I probably don't speak for everyone and it's a thriving industry in some tourist locations. If you have a silver tongue, sales experience, and either believe in timeshares or have a wonky moral compass, then selling timeshares may be for you.
50. Work at a ski resort
Seasonal jobs are a great way to make money while traveling. If you're an avid skier, a ski resort may be a great fit for you. The pay is low, generally around minimum wage, but you'll probably get lift passes for your off-days.
Here's a great article by A World To Travel detailing what life is like working at a ski resort.
Check out these sites:
51. Work at a summer camp
Like ski workers, camp counselors don't make much money but jobs can easily be found seasonally through these sites:
52. Work on cruise ships or superyachts
Cruise ships offer an amazing opportunity to make money and travel the world. The pay is close to minimum wage–around $13 per hour–but you'll probably work longer hours while out at sea. This article explains how to get a job on a cruise ship.
You can also find work as a deckhand, cook, cleaner, and all-around helpful crewmember on superyachts. You may not get paid, but you'll have all of your needs taken care of while living the way celebrities do. To find these jobs, check out a superyacht crew agency or just network where superyachters hang out.
Money & Investing
They say you've gotta spend money to make money. That's true with these 13 ways to earn some scratch.
53. Cut your monthly subscriptions
A penny saved is a penny earned. If you're like me, you probably have a ton of monthly subscriptions to things like Netflix, Hulu, HBO, Spotify, a few online services, and the gym.
(At least I cut that last one out when we hit the road.)
A survey by Market Watch asked 2,500 Americans how much they think they spend on monthly subscriptions. People guessed an average of $79.74 per month. When prompted to consider some oft-overlooked examples, like Playstation Now or iCloud, their estimate jumped to $111.61. The actual answer? A whopping $237.33 per month.
Do you really need to spend nearly $3,000 annually on these things? We're down to the essentials–a few streaming services in lieu of cable–and saving hundreds each year.
54. Churn credit cards
Churning is the act of repeatedly taking advantage of credit card signup bonuses by opening and closing cards and racking up the rewards. When done right it can be highly lucrative.
Dawn and I used to live in Hawaii and made the 10,000-mile roundtrip flight back to Massachusetts regularly. Whenever planning the $1,200 purchase with a combined 20,000 frequent flier miles, we looked to open a new credit card to take advantage of the large spend. The same went for when we had to spend $1,500 on new tires for our truck and fifth wheel.
If you're interested in churning, check out the r/churning subreddit. Just remember: Don't spend more than you normally would and always pay off your balance.
55. Open a bank account for the sign-up bonus
Banks are competing for your business and frequently offer bonuses for opening new accounts. They differ by the bank, account type, and transaction requirements but can range from $100-$1,000. NerdWallet has a good roundup.
56. Paribus product refunds
Ever buy something only to see the price drop the next day? Enter Paribus.
The service monitors your purchases through your email inbox and tracks your transactions from over 25 major retailers including Amazon, Target, Walmart, and Macy's. If the price drops on something you purchased or if your product arrives late, Paribus helps get you compensated.
Privacy Warning: You do need to grant Paribus access to read your emails, which is a big invasion of privacy in today's age of poorly understood corporate data-gathering practices. In my opinion, no amount of price differential reimbursements is worth giving more companies access to your data. However, Paribus can help you get money back with little effort on your end.
57. Buy and sell domains
Domain speculation is the practice of buying and selling website domain names for profit. It's extremely nuanced and a great way to buy a bunch of garbage but it can be done profitably, albeit with a low success rate and a steep learning curve. Domain Graduate is a good read to get started flipping domains.
58. Flip websites
In my opinion, flipping websites is easier. But keep in mind that opinion comes from someone who already owns a few successful websites and knows what he's doing.
I've built all of my websites from scratch, but I've long considered purchasing already-developed sites from marketplaces like Flippa and Empire Flippers. Your goal is to buy sites that look either under-monetized or poised for growth, which can mean a few things:
Content is good but the site doesn't leverage affiliate offers
Site only uses Google AdSense when another program would be better
Niche hasn't been fully explored and there's room to invest in new content
Niche and backlink profile are good but the content can be improved
That isn't an exhaustive list, but you get the idea. Typically, a website sells for 25-30 times its monthly net profit, so if you buy a website that makes $200 per month for $5,000 and improve it to $1,000 per month, you can sell it for about $25,000 minus taxes and fees.
It isn't exactly that simple and finding the right website can be challenging, but there's money to be made here.
59. Invest in the stock market
There are two ways to make money here.
First is the shorter-term speculation where you buy Stock A for $10 per share and sell when it goes up to, say, $15 per share next month. Individual stocks are more volatile, which means there's more money to be made (and lost) with this approach.
Second is longer-term investing where you have a more diversified investment profile–I'd recommend ETFs–and take advantage of the market's annual 10% growth, before inflation. Say you invest $5,000 and your investment grows 10% to $5,500 one year later. You can withdraw that $500 gain and pocket it, though you'll have to pay taxes on it as if it were normal income.
However, that 10% annual growth is just an average and you only get that average if you buy and hold for the long haul (10-30 years). Plus, by withdrawing you lose out on compounded annual growth, and you'd have to do this from a standard brokerage account instead of a tax-advantaged retirement account like an IRA.
60. Day trading
It's incredibly difficult–and risky–to make money day trading. Essentially, day trading is the practice of buying and selling stocks on the same day, taking advantage of the intra-day fluctuations.
Day trading is exceptionally hard because you're competing against big-money pros with a ton of high-tech software and well-designed systems. You also need a hefty balance as FINRA rules mandate that day traders keep a minimum of $25,000 in their accounts.
But in the end, no more than 5% of people who attempt day trading end up with a net profit, and a 2010 study found that number to be just 1%.
In my opinion, stick to any of the other 124 money-making methods on this list.
61. Fantasy sports
A personal favorite of mine is making money playing fantasy sports. You've probably heard of sites like DraftKings and FanDuel that allow you to compete with other sports fans by selecting lineups of players for a single day or week instead of the whole season. The rake is high and there are tons of pros, but playing fantasy sports is a great (and fun!) way to cash in on your sports knowledge.
62. Poker, blackjack, and sportsbetting
Lots of high-risk stuff in this category, huh? You can also make money by playing these games of skill. But just remember that you can always lose just as much. Success should always be measured over the long-term and requires a level head (don't chase losses), a proven system/ strategy/skill, and proper bankroll management.
63. Peer-to-peer lending
When people need money, they have the option of getting it from peer-to-peer (P2P) lending companies like Lending Club that connect people loaning money to people who need it. You can make money being a lender and collecting interest, but there are risks involved. This article is a step-by-step guide to making money with P2P lending by someone who got a 10.19% return on their investment.
64. Real estate crowdfunding
If you've always wanted to invest in real estate but don't have a ton of capital laying around, try Fundrise. For a minimum $500 investment, you can add real estate to your investment portfolio by investing in shares of properties.
It's best to let your money sit here for the long haul to experience the full benefits of Fundrise's historical 8.7%-12.4% annual returns, but this is yet another way to let your money work for you. RealtyMogul is another option.
65. Mine cryptocurrency
You can buy and sell cryptocurrency, but let's talk about mining it. The heyday of crypto mining is in the rearview, but you can still make money by using dedicated computing resources to add blocks to a blockchain's ledger. Margins are razor-thin these days, but it is possible
If all of that was foreign to you, it's best you move on.
Sell Your Skills
Stephen King said, "Talent is cheaper than table salt. What separates the talented individual from the successful one is a lot of hard work." Are you ready to get to work?
66. Become a scuba instructor
If you have a scuba certification and are traveling to a coastal area, pop into dive shops to see what jobs they know of. It costs a few hundred dollars to get a scuba certification, and pay varies based on the job. Dive instructors at resorts make about $12 per hour.
67. Become a yoga instructor
If you have a yoga certification or have ever wanted to get one, you can make money leading yoga classes. The Yoga Nomads have a great list of 25 ways to make money with yoga, but they caution that the average yoga teacher makes around $30,000 per year or about $15 per hour.
68. Become a surf instructor
Like yoga instructors, would-be surf instructors need both surfing and life-saving certifications to teach this popular tourist activity. The pay is also similar to that of yoga instructors, but at least you get to do what you love!
69. Become a personal trainer
If physical fitness is your thing, look at getting a personal fitness certification. The pay is better than that of either yoga or surf instructors, and hotels, resorts, cruise ships, and local gyms are among the many places looking to hire.
Like the "work on a superyacht" suggestion above, always be networking. Maybe you can land a personal client with the desire and resources to take you traveling with them!
70. Cut hair
Men's haircuts run $20-$30 at your local barbershop, and I'm sure women have it worse. If you're staying at a hostel or somehow know some people where you are, offer to cut their hair at a discount and/or outside normal barbershop hours. Learning to cut hair is a developed skill, but you only need a few tools and it's something everyone can learn.
71. Give massages
The same goes for you talented masseuses out there!
72. DJ events
If you're traveling with your DJ gear, talk to anyone and everyone who owns a public establishment about offering your services. That means ski resort managers, small beachside bars and eateries, yachts at the marina–you name it. Music draws crowds, which is good for both their business and yours.
73. Show off your cooking skills
Touristy areas are always in need of seasonal work, and higher-end resorts will be looking for someone to cook refined meals.
Here are some resources to find travel cooking jobs:
You can also network with people you meet and offer your services for their in-home enjoyment or maybe even dinner parties and events.
74. Model
If you want to show off your physique, attractive or not, pop into local modeling agencies and inquire about gigs. Also, try local universities and art studios to see if they need any models for art classes.
75. Learn calligraphy
Calligraphy is so cool. When Dawn and I were planning our wedding, we wanted our seating assignments to have a handwritten touch. I wish having them done professionally was in our budget but, alas, our guests had to decipher my handwriting. (Which I've been told looks like that of a 16-year-old girl.)
According to The Knot, this would have run us $2-$5 per card. Custom calligraphy is time-consuming and hard to learn, but there's money to be made here. This Quora answer from a calligraphy teacher says that anyone with 1-3 years of calligraphy experience is still considered a beginner, so start learning today.
76. Paint murals
Murals are popping up in cities all around the world, and they aren't all for purely creative purposes. In many of the cities we visit around the US, murals advertise the businesses inside the building. If you spot a big blank canvas on the side of a building, walk inside and talk to the store owner about creating a mural to give their business some additional visibility and street cred.
77. Guest speaking
Everyone has a skill. Not everyone gets paid for it, but you can! You may have to start with free speaking gigs, but the good news is that those opportunities abound. Talk to local clubs and organizations pertaining to your skill and offer to speak to their audience for free. This allows you to network while honing your craft so you'll be ready when the paid speaking gigs come up.
What are those paid opportunities? This Medium article gives 5:
The typical keynote speaker at a conference
Brand ambassador for a business
Leading training sessions
Translate your knowledge to webinars and podcasts
One-on-one or small group coaching
78. Restore and resell furniture
There's plenty of free or cheap furniture that I'll politely classify as "well worn." Invest your time, expertise, and some high-quality materials in fixing that furniture up. You can then resell on Craigslist, the Facebook Marketplace, OfferUp, local flea markets and craft fairs, or elsewhere.
79. Street performing
Whether music, dancing, or turning into a living statue is your thing, there's money waiting for you as a street performer. This music duo made $523 in one 12.5-hour session, which works out to $21.22 per hour apiece. That article has some tips you might find interesting.
Sell Stuff Online
Nearly $3.5 trillion is spent online every year. Get a piece of the pie with these 12 ideas.
80. Flip thrift store finds
Dawn paid off $30,000 in student loan debt in one year by buying and reselling clothing and accessories at our local thrift stores. You'd be surprised what gems await at the Goodwill, Salvation Army, Saver's, and other secondhand stores. She once found a calf leather jacket for $13 that she resold on eBay for $600!
If you aren't a fashionista, don't fret. Neither is Dawn. She spent a couple of months looking up every clothing label she found to see which had value and which were garbage. Over time, you learn what does and doesn't sell. When you find that awesome pair of Lululemon yoga pants in mint condition, post listings on eBay, Poshmark, and Mercari.
81. Sell other people's junk
Dawn has taught dozens of friends and family members how to flip thrift store finds, but only a couple have stuck with it. In fact, more people have offered to let Dawn sell their used items–including expensive jewelry, shoes, and handbags–and keep a portion of the profits. This is great because there's no risk and the only thing you invest is your time.
82. Sell your arts and crafts
Every time we walk into an artsy store, this following conversation invariably takes place:
Dawn: "I love [insert cool crafty thing]!"
Bryan: "You could make that."
I'm half-joking but also half-serious. Dawn is artsy and a lot of these items are fairly easy to replicate. Canvas bags with state outlines drawn on them, wood signs with "Life Is Better By The Beach" burnt into them, earrings with a bunch of dangly feathers–these are all things that any moderately crafty person can make. Create a style, product, and brand and sell your stuff on eBay or Etsy.
83. Sell your photographs
If you're good with a camera and know your way around Lightroom and Photoshop, you can make money selling your photography online.
Adobe Stock lets you upload your photographs for 20-60% royalties while keeping the rights to sell on other platforms. Shutterstock lets you keep 20-30% with rights retained. You can also sell prints through Etsy. Some other sites to check out:
84. Create a tutoring course
As I've said several times on this list, everyone has a skill. Create a video course around yours and sell it on marketplaces like Udemy. You can make 50% of the revenue generated (plus some other earnings scenarios) which can really add up if your course gets popular. Here are some tips from ThimPress on how to create a great video course.
85. Flip textbooks and mini-fridges
When I was 25 I had an epiphany. I lived near Boston, Massachusetts where there are tons of universities, and I noticed that college students moving out at the end of the year were trying to get rid of things they didn't need anymore–namely, textbooks and mini-fridges.
This was something I went through myself a few years earlier. When the school year ends, there's an oversupply of these college necessities and virtually no demand. I stepped in and bought up these textbooks and mini-fridges at bargain-basement prices and resold them when the next semester began.
Chances are there are universities where you'll be traveling. Post flyers on boards around campus and advertise your intent to buy on Craigslist. When the next semester rolls around, sell for a profit.
86. Dropshipping
Dropshipping is the practice of being a professional online middleman. Basically, people buy stuff from you at one price, then you buy it at a lower price and have it shipped directly to them. You never have inventory yet you still make a profit. It isn't quite that simple, but you get the idea. This guide from Shopify will answer all of your questions.
87. Sell t-shirt designs
If you like graphic design but don't want to freelance with clients, try uploading t-shirt designs to sites like Merch by Amazon (invite only), CafePress, Zazzle, Society6, Bonfire, and Redbubble. Each has their own pricing model. Redbubble, for example, let's you customize your royalty with creators earning an average of 17% revenue.
Pro Tip: Not a super-mega-awesome graphic designer? Don't worry. Some of the most popular designs are clever phrases that are light on the design work.
88. Open a Shopify store
Shopify is a versatile eCommerce platform. Whether you're using it to start your dropshipping business, sell your own arts and crafts, advertise your freelance services, or something else, Shopify is a great way to get your name out there.
89. Sell class notes
Are you an expert note-taker? Sell your class notes online using one of these services, which offer commissions starting at 50%:
You can also sell old essays at Cash 4 Essays.
90. Sell your lesson plans
Students aren't the only ones who can cash in on their hard work. With Teachers Pay Teachers, education professionals can sell their lesson plans and classroom materials. My Sister-In-Law is a high school teacher and when Dawn asked if she'd heard of this site, she said that her whole school buys materials from it all the time. Premium Sellers on the site pay a $59.95 annual fee but keep 80% of the revenue generated by their materials.
91. Sell your junk mail
File this under "You'll pay me for what?" but you can actually sell your junk mail. The Hauser Group needs people like you to tell them when you receive specific pieces of mail. Companies want to know how long it takes their mailers to get to you, so they hire The Hauser Group to conduct this analysis. You only make $0.10 per piece of mail logged, but what else is your junk mail doing for you?
Online Side Hustles
It's hard to make a full-time income with these ideas, but they can help pay the bills in your spare time from the comfort of your own home.
92. Come up with slogans
Consider yourself witty? Have a go at writing corporate slogans and taglines. Companies often host contests to get a bunch of ideas to choose from, and you can get paid if you win. The catch is that some sites charge an entry fee–"pennies" according to Slogan Slingers–so you don't spam low-quality submissions.
93. Amazon Mechanical Turk
Anyone who's Googled "how to make money online" has invariably come across Amazon Mechanical Turk. The pay is peanuts and the work is boring, but it's a tried-and-true method. Most people report making $6-$10 per hour.
94. Clickworker
Clickworker is another freelance marketplace that offers article writing, copy editing, proofreading, research, and more mechanical tasks like categorizing data and completing surveys. Compared to other freelance sites like Upwork or Freelancer, Clickworker is filled with lower-quality gigs that don't pay as much. On the plus side, it's easier to grab assignments.
95. Fiverr gigs
Fiverr started with the goal of answering the question "What would you do for 5 bucks?" It's since evolved into a freelance marketplace like Upwork or Freelancer but geared towards cheaper gigs. If you're just getting your start in online freelancing, Fiverr is a good place to offer your services and build a portfolio.
96. Test apps and websites
App developers and webmasters are always looking for people to critique their platforms to provide a better user experience. Websites like User Testing let you grab these assignments where your job is to use a website or app, complete a set of tasks, provide feedback, and get paid. You won't make a full-time income doing this, but you could pull in $100 or more each month for a few hours of your time each week.
Some other app and website testing sites you can check out:
97. Become an eJuror
Attorneys like knowing how a jury may lean before taking a case to trial. That's where you come in. On eJury, you can make $5-$10 per case just by submitting your verdict. Case volumes aren't super high as they must take place in the county you live in, but you should get a few cases per month.
98. Be a part of online focus groups
It's possible to make over $100 per hour participating in online focus groups. Here are some places to get started:
99. Download the Nielsen Mobile Panel app
You know who Nielsen is–that company that measures stuff. Not only do they care about what you're watching on TV, but they also care about what you're doing on your phone.
To join, you fill out the form, create an account, and install the app. Nielsen monitors your mobile activity in the background safely and securely (supposedly). The payout is small–up to $50 per year–but you don't have to do anything but live as you normally would.
Privacy Warning: I said this above about giving Paribus access to your email account for easy product refunds, but I'll say it here, too: Be wary of giving big companies too much of your personal data. Maybe my tin foil hat is a little too tight, but these companies aren't truthful or forthright about what they're doing with our data. You gotta look out for you.
100. Participate in the Nielsen Consumer Panel
Sticking with Nielsen, you can also join their Consumer Panel where you scan barcodes of products you purchase. In return, you earn rewards that can be redeemed for gift cards and merchandise.
According to this site, the pay is meager at best, but one 5-star reviewer had an interesting take:
If you're looking to make some quick cash then this is not the place you want to join. But if you're in it for the long haul there are great rewards to be had. I've been a member for many years now and I regularly choose items from the reward catalog and they arrive promptly.
You can join the Nielsen Consumer Panel here.
101. Review music
Artists often want your thoughts on their latest track before releasing it. One such site, Music Xray, pays you $0.10 per song but each song is about 30 seconds long. Pay is similar on all these sites. Here are a few others to check out:
A few other services pay you to listen to radio broadcasts or review radio shows for networks:
102. Review products on Project Payday
Project Payday allows you to earn commissions by completing product offers. Sometimes you need to enter your credit card information to sign up for free trials, so be careful about canceling before the trial is up.
Full Disclosure: I have never used Project Payday and the whole system is a little confusing to me even after reading multiple reviews on it. That second link explains things much better and I suggest you read it before joining Project Payday.
103. Get paid to Google
Search engines like Google need your help to refine their search algorithms, voice recognition technology, and other aspects of the user experience. Companies like Appen and Lionbridge connect you to Google. Your job as a Search Engine Analyst is to complete tasks and log the results. You can also become a Social Media Evaluator with both jobs paying $14 per hour. You're required to work five days per week for at least one hour per day, but you can choose when that hour is.
104. Or switch to Bing
Google is so ubiquitous that we just refer to the process of searching the Internet as "googling" even though there are a couple dozen different search engines out there. If you want to make a little extra scratch, try googling on Bing.
Bing is Microsoft's search engine. It makes up about 9-33% of the US search engine market–yes, the range of estimates is that large–and you can increase those numbers while getting paid. Bing Rewards gives you credits for completing tasks. You get one credit for every two searches with a maximum of 15 credits per day, and you can redeem those rewards for things like Domino's gift cards, gas cards, and sweepstakes entries for larger prizes.
If you earn Gold Member status–not that Goldmember–by accruing 750 lifetime credits, you can get a $5 gas card for 475 credits. At 15 credits per day, it would take you 50 days to reach Gold status and 31.67 days to cash out that $5 gift card. Basically, you get paid up to $5 per month.
105. Swagbucks and InboxDollars
SwagBucks is more than reviews and surveys, and it's a legitimate site that's paid out over $250 million to its members. The whole idea is to complete a variety of tasks for SwagBucks (SB), such as using SwagBucks as your default search engine, watching videos, shopping online, referring friends, playing online games, and, yes, completing surveys.
Save the Student recommends SwagBucks highly and says you can make over $600 every year by using SwagBucks as your search engine. By completing other tasks, you can expect to earn a little over $5 per hour. I'd rather get a part-time job or do some freelance writing, but there's no doubt you can make money here with minimal effort.
InboxDollars is basically the same thing.
106. Take online surveys
In addition to Swagbucks and InboxDollars, which are a little more robust, you can also join survey-specific sites. Undoubtedly, you've heard of this way to make money online. Still, I have to mention it. Is it lucrative? No. Do real people like you make money with it? Yes.
Other Side Hustles
Like the Online Side Hustles section above, but these 19 ideas require you to leave your house.
107. Drive for Uber or Lyft
Unpopular Opinion Alert: I purposely kept Uber and Lyft out of the Traditional Jobs section above because people don't make as much money driving as they think.
An MIT study based on self-reported earnings and mileage data from 1,100 rideshare drivers concluded they earn an average hourly rate of either $8.55 or $10.00 (depending on the methodology) meaning either 54% or 41% of drivers make less than their state's minimum wage.
However, this study by Ridester found that drivers overestimate their earnings by an average of 37.4%. If we adjust those hourly rates to account for inflation of self-reported data, the new hourly estimates are $6.22 and $7.28 depending on the methodology.
That same study by Ridester came to this conclusion:
Since our survey breaks out earnings by city, we can look and see that Philadelphia drivers earn more than the $13.70 national median, coming in at $17.62 per hour. But when we deduct the per-mile costs of $0.458 for the 18.27 miles [driven per hour] we get an average hourly expense of $8.37. That means the average Philly driver earns a median income of just $9.25 per hour.
And as that excerpt says, that's for Philadelphia drivers already making $3.92 per hour more than the national average. Their estimated $0.458 per-mile cost (lower than the IRS rate) doesn't really change when leaving higher-paying areas, which means the national average hourly rate is something like $5.33 ($9.25-$3.92).
The Takeaway: The average Uber or Lyft driver is netting somewhere between $5.33-$7.28 per hour after all driving-related expenses.
Of course, that's just an average. You can make more and you can make less. Being a rideshare driver can be a source of income, but many drivers fail to understand that a large portion of their income comes from converting their car's future value to cash now.
108. Deliver for Postmates or Caviar
If you'd rather transport goods than people, check out Postmates or Caviar (a higher-end food delivery service). Many of the same expense-related concerns about Uber and Lyft apply here, and Ridester did some research to determine the average earnings by Postmates workers considering those costs. They concluded the following:
Drivers have earned up to $25 an hour consistently. This was during the stage when the startup company was onboarding couriers as they entered the market.

The actual average wage may be rounded off to $9.23 per hour, recent reports reveal.
This driver worked for both Postmates and Caviar and estimated he made $14.97 per hour before expenses. Because there's a lot of parking and waiting here compared to driving for Uber and Lyft, let's say vehicle-related costs are half of what we applied as a rideshare driver. That puts our after-expenses rate at $13.01 per hour.
He also said, "And don't expect to make this much five days a week. The Logistics Associate at Caviar told me that Mondays through Wednesdays are slow."
I think delivering for Postmates or Caviar is preferable to driving for Uber or Lyft, but there's no doubt in my mind this is a slightly more demanding job, too.
109. Become a notary
Notaries can make $20 or more serving as professional impartial witnesses. There's a catch, though: Being a notary is a little restricting state-wise. Most states only let you be a notary in that one state, and you can only notarize documents inside state borders.
However, some states give you more flexibility, and being a notary in these states opens up a little extra earning potential:
It gets a little complicated, so check out this Wikipedia entry if you're interested.
110. Find local gigs on TaskRabbit
TaskRabbit is the in-your-town version of Fiverr where people post gigs for furniture assembly, moving help, and general handyman (or handywoman!) work. "Taskers" as they're called set their own rates and apply for jobs. If accepted, they complete the work and get paid.
According to Jamie Viggiano, TaskRabbit's Vice President of Marketing, Taskers who commit to the platform can make upwards of $7,000 per month.
That same article profiles a few Taskers, one of whom I think applies to most people: David Cordova. He charges $25 per hour for events and $60-$80 per hour for more demanding tasks. He tries to take 2-3 jobs per day from Monday-Friday and makes $500-$700 per week. Not bad!
111. Deliver packages with Roadie
One major advantage frequent travelers have is they travel frequently.
Duh, Bryan.
You can make your travel work for you by signing up for Roadie, a service that connects drivers with people who need stuff delivered. When you sign up, Roadie sends you a link to their mobile app, which displays delivery jobs all around the country. Some are short–less than 10 miles–but others are 600+ mile journeys that pay over $200. If you're already heading that way, it's a good way to offset your gas expenses.
112. Translate signs, menus, etc.
This one is less formal, but have you ever traveled to a foreign country and seen something translated poorly from the local language to English? I have, specifically menu item descriptions that are way off. No matter what the translation is–Spanish to English, English to Chinese, whatever–offer your expertise for a negotiated fee (or a free lunch).
113. Sell ad space on your vehicle
Wrapify lets you turn your car into income by wrapping advertisements around it. They have three levels of ad-takeover, each paying a different range. Check out this example car with full wrapping, estimated to make $264-$452 per month.
In addition to Wrapify, check out these other car advertisement companies:
114. Sell your things
Downsizing is a necessary part of life on the road. In fact, unless you have a helpful family member who can lend you free attic space, it may actually cost you money to keep your stuff. Instead, free up space and make some scratch by selling your things on eBay, Craigslist, OfferUp, Poshmark, Mercari, the Facebook Marketplace, or other marketplace apps.
115. Rent out your home
If you aren't going to be living in your home, let someone else pay your mortgage. List your house or apartment on sites like Airbnb, HomeAway, or VRBO. You can also cut out the middleman and sublet through Craigslist.
116. Be a movie extra
Want to make $180 and be a movie star? Try becoming an extra. Find a casting agency, like Central Casting or Backstage, and create an account. If you're spending time in or near a particular city, Google "casting agencies in [city]."
There may be a fee to sign up, but after that, all you do is wait. When film crews need someone near you, they'll call. Your job is to be reliable and do your best to meet their needs. If you do a good job, expect more calls.
117. Housesitting
A fun way to make money while traveling is to housesit for other people who are traveling. And sometimes those homes are luxurious. We're talking better-than-a-hotel fancy. Just make sure you're good with pets as Trusted Housesitters found that up to 80% of housesitting gigs are because the homeowners want someone to look after Fido.
Trusted Housesitters is a great way to find gigs. There's an annual membership for both homeowners and sitters ($119) but no other fees are taken out for each sit you complete, and the average homeowner pays $25-$45 per day.
Other housesitting sites to check out:
118. Petsitting and dog walking
As mentioned above, 80% of housesitting jobs are really petsitting jobs, so you can use a lot of those sites to find petsitting gigs, too. However, you can also just straight-up dogwalk or petsit, either in someone else's home or your own.
Rover is the leader in pet-related services. This thread on Rover's forum is a good discussion about how much you can make. The consensus seems to be that $1,000 or more per month is doable if you're willing to dedicate 20 hours per week. That puts the pay at about $12.50 per hour. One person said, "I'm netting $1,000-$1,100 a month working about 20-25 hours a week. I could make more if I boarded…" and the use of "netting" there makes me think those numbers are after Rover's 15% service fee.
119. Babysitting
Care.com is like Rover but for kids.
(I actually read somewhere that Rover is like Care.com but for pets, but I like dogs more than kids so I flipped it.)
The site matches up sitters with people who need babysitting or other personal care services, such as senior care. Indeed reports that the average babysitter or nanny makes $13.74 per hour with senior caregivers making $16.34 per hour.
120. Make money by getting in shape
Physical fitness is an important part of our daily lives. In fact, a study in Cardiology found that not exercising is worse for you than smoking.
HealthyWage and Achievement are fun ways to make money hitting your fitness goals.
HealthyWage lets you make a weigh loss bet, and if you hit your goal using their verification system, they pay up. If not, well, you lose your bet. Their prize calculator gives you an idea of the kind of money you could win, but you have to enter a weight loss goal that's at least 10% of your starting weight.
Achievement gives you points for completing certain fitness goals, such as logging food on MapMyFitness or recording a workout on Strava. For every 10,000 points, you earn $10 in redeeming power. You can earn up to 80 points each day for each kind of tracked activity–walking, cycling, running–plus up to 6 points each day for things like logging food and sleep. This person said they walk 6,500 steps per day and average 52 points from it. If you do that, plus log your food and sleep, every day, it'll take 188 days to earn $10. Clearly this isn't a big money-making app, but it's a great way to stay on target for your health and fitness goals.
121. Recycle bottles and cans
"There is gold in the streets just waiting for someone to come and scoop it up."
When Walter White said that, he was referring to crystal meth. But he also could have been talking about empty bottles and cans. Apparently, a full-time can collector can earn $30-$50 per day. That's about $1 per hour scavenging for 20 cans.
Of course, you could also drive to Michigan for that sweet, sweet $0.10 deposit.
122. Donate plasma
Plasma is the clear part of your blood made up mostly of water with enzymes, salts, and proteins. Each donation takes 60-90 minutes and pays $20-$50. To be eligible you must be 18-69 years old and weigh at least 110 lbs. Depending on where you go, you can donate up to twice every seven days, giving you an earning range of $160-$400 monthly.
However, donating plasma isn't always pleasant. Donors often feel drowsy or lightheaded after the process, and donating frequently gives your body little time to recover. If you're physically active, be careful with how often you donate.
123. Secret shopping
When Dawn and I lived in Hawaii, we used to find secret shopping assignments on iSecretShop that paid us to evaluate our local grocery store. All we had to do was go in, do our normal shopping, snap some pictures of whatever they wanted–the produce section, the deli, etc.–maybe talk to an employee, and then document it online. In return, we got $25.
Other secret shopping sites to check out:
124. Keep your ears open for odd jobs
When we were visiting Tombstone, Arizona we went to a bar called Four Deuces Saloon. We enjoyed some local beers on tap from Tombstone Brewing Company (awesome brewery) and Old Bisbee Brewing Company (pretty good) when we met a man named Nic who was also passing through town. We got to talking and asked what he does for work. Nic told us he doesn't work for money but rather for food and a place to park his minivan in exchange for doing odd jobs.
About an hour later we were all talking to a local from Tombstone who runs a hot dog stand. Nic seized the opportunity and asked our friendly purveyor of frankfurters if he needed any help setting up the following day. The hot dog man said yes, and I presume Nic showed up the next morning to help out in exchange for a meal.
One of the best parts of traveling is embedding yourself in the local culture. As you're doing so, keep your ears open for opportunities to provide value. Hopefully you can earn some money instead of just hot dogs.
125. Hunt for diamonds
Crater of Diamonds State Park in Arkansas is one of the only places in the world where the public can search for diamonds. Over 33,100 diamonds have been found there since 1972. That's an average of two diamonds per day at an average size of 0.25-carat. This site has some fancy math that estimates the value of a rough diamond at $375 per carat, making each 0.25-carat diamond worth $98.75.
In 2015, someone found an 8.52-carat diamond there worth $1 million. In 1924, before it was a state park, someone found a massive 40.23-carat diamond that holds the distinction of being the largest diamond ever found in the US.
So grab your shovel and your box screen and get hunting!